Ani's
A blog managed by Dianne and Adrian. Food lovers/ Photography enthusiasts/ fashion savants/ drummer.

In a relationship since October 1, 2008.


Online Users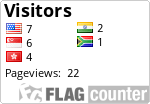 Every time we love, every time we give, it's Christmas.
-Dale Evans
We open for product reviews, blogging ads, collaborations and other projects. Just send us an email to loveandotherblogs@yahoo.com
All contents in this blog is © Dianne Dequina & Adrian Tunac unless otherwise stated.